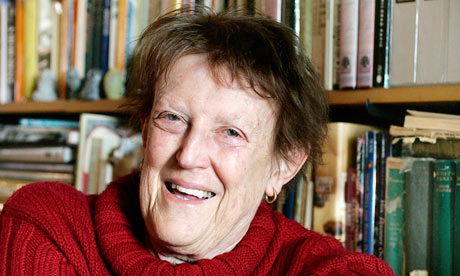 Photograph: Chris Skelton/AP; guardian.co.uk
Margaret Mahy
, beloved Overlook author,
died on July 23 at the age of 76
. Award-winning author of more than 150 books, Mahy gave up her day job as a librarian in New Zealand to become a full-time author in 1980, a fortunate event for children around the world who have enjoyed—and will, no doubt, read to their own children—her whimsical, inventive prose. Whether writing for children or teens,
Mahy 's stories
are imbued with enchanting characters and fantastical plots; in any book written by Mahy you're likely to encounter dragons, pirates, robots, or treasure, always enriched by her fierce imagination. In honor of Margaret Mahy, the Overlook staff wouldlike to spotlight some of her treasured literature we have been privileged to publish.
A Lion in the Meadow, the first book she published, is both a tale of imagination and of true friendship. With beautiful illustrations by Jenny Williams, we think A Lion in the Meadow is a picturesque triumph of a child's imagination over adult skepticism, but we'll let you judge whether or not there really is a lion living in the meadow.
There is treasure waiting to be discovered in
Clancy's Cabin
, Mahy's short chapter book about three siblings camping while their parents tend to newborn twins. After discovering a treasure map in a family friend's ancient cabin, Timothy, Marina, and Skip spend their summer locating landmarks and puzzling through word clues in search of treasure. On their journey they meet an eccentric old woman who assists their search, revealing a few secrets and stories of her own, about their father and great-grandfather, whom they never knew. Though written more than thirty years ago, the story of Clancy's Cabin and the Harrington children continues to intrigue and delight.
Ludovic, with his bushy black beard, eye patch, and affected speech, is the eccentric uncle to well-behaved Nicholas and Caroline Battle and the title character of Mahy's
The Pirate Uncle
. When Gillian and Andy Battle go on vacation, they leave their children behind with their notorious Uncle Ludovic—who needs their help in purging himself of his wicked pirate ways. Stranger still, life begins to imitate fiction for Nicholas, who has been reading a book about two children sent to live with their mysterious, smuggler uncle! With her clever wordplay and another fantastical plot, Mahy weaves a captivating tale, and her fullyfleshed characters make the short novel as warmly real as it is enchanting.
The Chewing-Gum Rescue
, a collection of Mahy's short stories, is peopled with witches, princesses, magic pumpkins, talking birds, goat-nappers, and gum-chewers. From the story of Michael, who can imagine oceans into reality, to the tale of Mr. Philpott and his Instant Elixirs, which can bring beauty, courage, or wealth to the drinkers, Mahy outdoes herself in this amusing, inventive, and often supernatural collection.
In true Margaret Mahy fashion, the adults in
Raging Robots & Unruly Uncles
learn more by the end than the children—already more clever and compassionate than their older counterparts.
Raging Robots
is the story of twin brothers, evil Jasper and good-natured Julian, and their children—seven sons and a mischievous tomboy daughter, respectively—who don't measure up to their standards. But two tyrannical robots, the diabolic Nadger and the virtuous Lilly Rose Blossom, soon teach the brothers the true delights of their own, at times exasperating, children. But it may take a destroyed house, a book of improving stories, and fifteen policemen to get the message across.