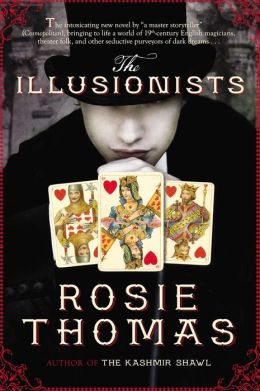 Rosie Thomas, the acclaimed author of The Kashmir Shawl, is at it again. This time, she's taking her passionate prose to 1870's England. Thomas's latest novel THE ILLUSIONISTS effortlessly swirls romance with adventure in an enchanted Victorian setting. In the thick of all the magic and mayhem is an unforgettable cast of characters, who all, by a twist of fate, join together to become a theater troupe.
Eliza is a beautiful and fiercely independent woman determined to fall in love on her own terms; Jasper has great artistic vision, but he longs for the comforts of domestic life; Devil is a mysterious man with great ambition. Their troupe would fall apart, though, without the massive talent of tiny, fiery Carlo.
Carlo wears many hats: contortionist, pickpocket, friend, villain.
He might lose his patience. He might steal your wallet. But one thing's for sure: he will simultaneously shock and impress you.
Check out the book trailer below to dive deeper into the world of THE ILLUSIONISTS, available today as an eBook for just $2.99.